Providing programs for families with children from Infant to Grade 6.
In-Person Sunday Classes for both services!
Harvest City Kids In-Person Classes are available for ages 2 to Grade 6 during the 9:15am and 11:15am service. Our Nursery is open for infants. The Nursery is manned for the 9:15am service and open for parents with infants but NOT manned during the 11:15am service.
What you need to know!
To keep children safe we have limited class spots so you're encouraged to arrive before the service starts.
Kids proceed directly to their classes once checked in.
Classes begin at 9:15am and 11:15am so arrive a little before so your child can get the most out of the class.
First time attenders must complete our CHILD REGISTRATION AND CONSENT FORM using the button below.
Check-in is required and available in the Church Foyer. ALL children attending classes or the manned Nursery must be checked in and wearing their name tag.
Self Check-in is available. Download the Church Center App https://harvestconnect.ca/churchcenter
Keep your phone on vibrate during the service so that if your child needs assistance, we are able to contact you.
Junior Youth classes for Grades 7 to 8 are offered during the second service 11:15am immediately after the worship portion of the service is over.
First time attenders must complete the JUNIOR YOUTH REGISTRATION AND CONSENT FORM using the button below.
Click on the Image below for more details and class locations.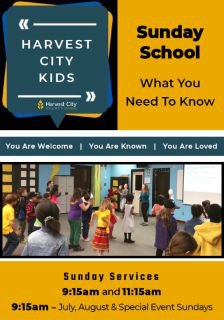 PARENT'S CORNER. Stay connected: Join our Facebook group or follow us on Instagram


PARENTS... we believe you play the most important role in a child's development so we want to support and help equip you. Do you have questions about Harvest City Kids or want to find out about parenting classes? Use the "Get In Touch" button below to find out more.